Ted Ensley Gardens
SE 37th and West Edge Road, Lake Shawnee, Topeka, Kansas
Open year-round from 6:00 a.m. to 11:00 p.m.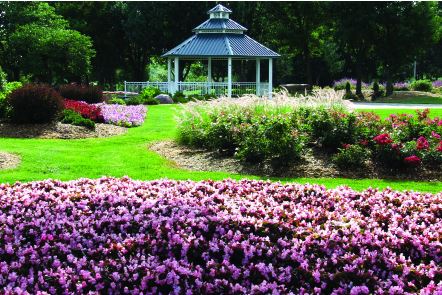 The Ted Ensley Gardens are located on the west side of scenic Lake Shawnee with a panoramic view of the lake. The lake was built as a Work Progress Administration project and was completed in September 1939. The gardens have an area of nearly 20 acres with a wealth of design ideas and spectacular plantings.

The entrance to Ted Ensley Gardens is located to just north of 37th and West Edge Road. Walk through a beautiful 60 foot covered bridge over a rocky stream and then stroll through a meditation garden, rock gardens, many annual and perennial beds, rose gardens, and water gardens. There is also a gazebo, pergola, waterfalls, streams, and several ponds. The horticulturists from the Shawnee County Parks and Recreation Department, with the assistance of volunteer plant more than 80,000 tulips and daffodils that are in full bloom for the annual Tulip Time Festival in Topeka. In May, more than 90,000 annual flowers and plants are planted in bed throughout the gardens. The Shawnee County Extension Master Gardeners help maintain a Woodland (Shade) Garden as one of their demonstration gardens.