Making a Difference in Your Life
About Extension Programs
Extension programs present research-based information related to agriculture, family and consumer sciences, youth development, family life, business and economics, healthy living, and much more. We take programs to schools, gardens, community centers, and other places.
Our Partners
Shawnee County Extension is a unique partnership among Shawnee County, Kansas State University and the United States Department of Agriculture.
Our philosophy is to help people help themselves by taking university knowledge to where people live, work, play, develop and lead. We work at being responsive to the needs of the people by focusing our resources on providing quality information, education and problem-solving programs for real concerns.
Stop by, give us a call or send us an e-mail. We're here to help you!
---
Shawnee County Extension Employment Opportunity - 4-H Office Professional

Seeking a part-time, temporary office professional to support the 4-H program. June & July 40 hours per week (8 am - 5 pm); August through December 16.5 hours per week (11:30 am - 5:00 pm). We desire a customer-focused employee with strong organizational and communication skills. Required experience: Working with computer programs including Word, Excel, and Microsoft Publisher. Preferred experience: Managing web content. Pay range: $10-$12/hour. Background check is required.

Please check below to get a complete job description and application procedures. Screening of applicants will begin May 18th and continue until a suitable employee is found.

KSU is an affirmative action/equal opportunity employer and encourages diversity among its employees.

*4-H Office Professional Job Description

*Office Professional - Application for Employment

*Office Professional - Application for Employment (fillable form) Click on "open in different viewer" in upper right corner



---
Click on the title for more information.


---
Support the Extension Foundation With Your Dillons Plus Shoppers Card

Click here for more information.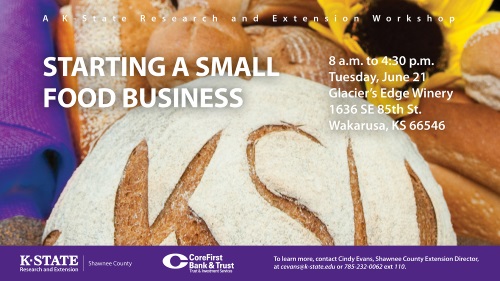 Starting a Small Food Business (agenda)

Starting a Small Food Business (brochure)