4-H Clubs in Shawnee County
There are numerous 4-H Clubs in Shawnee County. Each 4-Her belongs to a Community Club. Memberships of these clubs consist of youth who live in a given area or community based upon where that club meets. Community Clubs have structured meetings. emphasize community service and increase communication skills. If you are interested in joining 4-H, we encourage you to visit several of the different Community Clubs in your area to find the best match for your family. If you have any questions, please do not hesitate to contact the Shawnee County Extension Office at (785) 232-0062.
Shawnee County 4-H offers several county-wide project group meetings as well.
Just a little sample of Community Clubs in action!
Find the best Club for you in your area!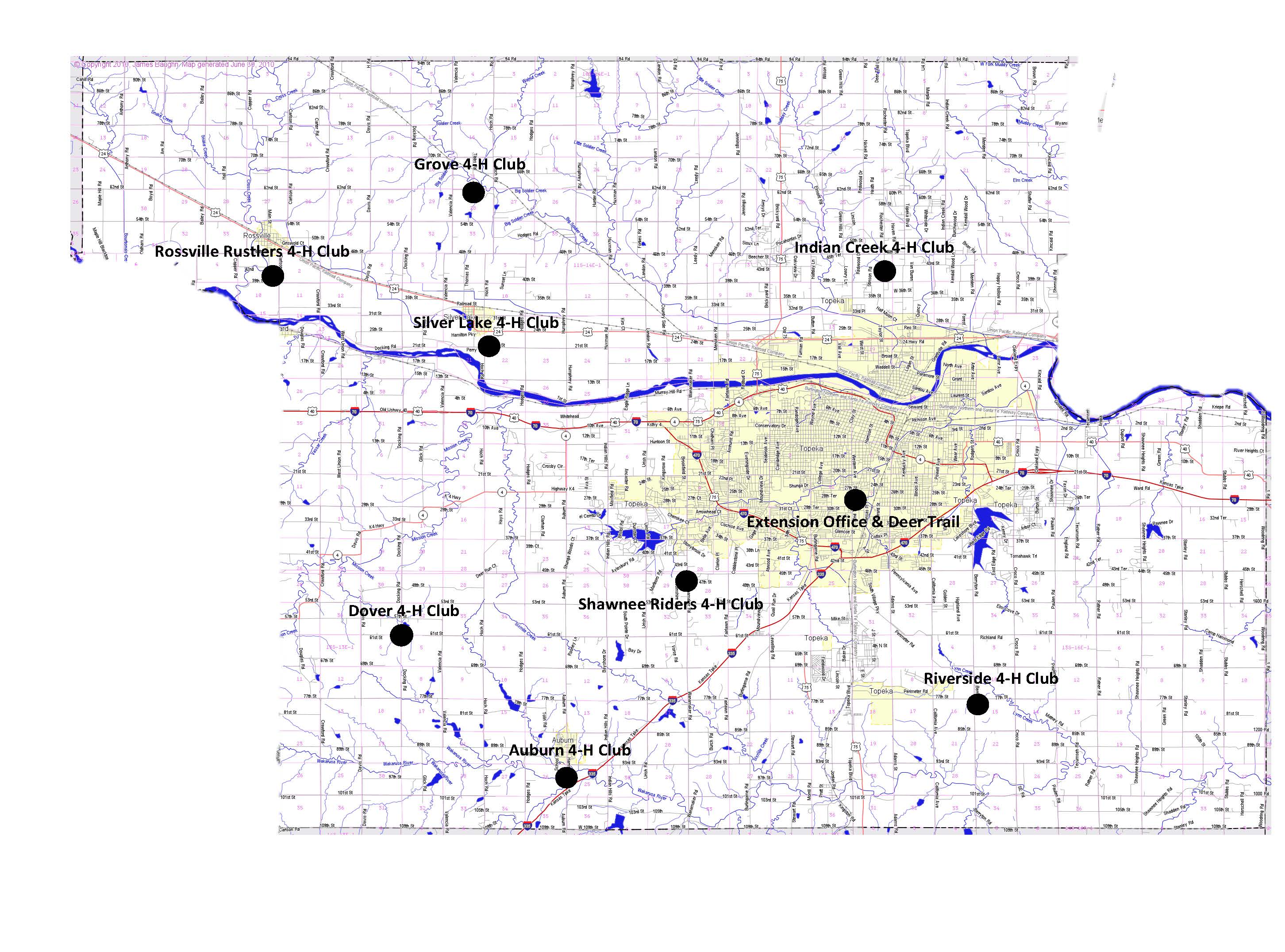 Club Name
Area
Meeting Location
Meeting Date & Time
Leaders
Email
Phone Number
Auburn
Auburn Area
Auburn Community Center, 121 W 11th St, Auburn, KS 66402
2nd Monday, 6:30pm
Jeremey Poling & Jennie Jackson
jpoling@polinginternet.com jennie.jl.jackson@icloud.com
Deer Trail

Central Topeka Area

Shawnee County Extension Meeting Room, 1740 SW Western Ave, Topeka, KS. 66604
2rd Monday, 6:00pm
Bryan Boutz & Marcia Bricker
bboutz@gmail.com bricker531@juno.net
785-246-6432
Dover
Dover Area
Dover Community Center
5928 SW Douglas Rd
3rd Sunday, 5:00pm
Sandy Atwood & Amy Johnston
satwood722@gmail.com Amyjohnston579@gmail.com
785-221-1895 785-256-6020
Grove
Silver Lake Area
Grove Township Hall
6939 NW Tibbs Rd
3rd Sunday, 300pm
Darwin Bahner
darwin.bahner@gmail.com
785-207-7308
Indian Creek
North Topeka Area
Sunrise Optimist Club Building 720 NW 50th, Topeka
3rd Monday, 7:00pm
Jenny & Jay VanLeeuwen
jenvanlee@mac.com jaysemail22@gmail.com
785-783-4304
Riverside
South East Topeka Area
Berryton United Methodist Church 7010 SE Berryton Rd
Berryton, KS 66409
2nd Monday, 7:00pm

Mary Beth Showalter Allison Lehmann Jennifer Kuckelman

riverside4hsncoks@gmail.com
Rossville Rustlers
Rossville Area
Citizen Potawatomi Nation Bldg. 806 Nishnabe Trail
Rossville, Ks 66533
3rd Monday, 7:00pm Cloverbuds Meeting at 6:30pm

Jessica Aubert Melisa Thompson Anne Foster

aubertfarm@gmail.com
melly2002@yahoo.com
alannfoster@msn.com
Shawnee Riders
South West Topeka Area
Farm Bureau Bldg. (West) 3801 SW Wanamaker Rd., Topeka, Ks 66614
3rd Tuesday. 7:00pm
Melissa Tillery & Megan Burgess
mpookiern72@gmail.com megan@meganburgess.org
785-554-2301 785-640-2254
Shunga Valley

Central Topeka Area

Extension Office Meeting Room 1740 SW Western Ave
Topeka KS 66604
2nd Sunday. 5:00pm
Adrienne Kell
abckell@hotmail.com
785-233-5442
Silver Lake
Silver Lake Area
First Baptist Church 301 ½ Railroad Ave., Silver Lake
2nd Sunday. 2:00pm
Shannon Weber
Skeeter_22_98@yahoo.com
785-656-9407