Health, Home and Safety
Simple Ways to Cut Your Grocery Bill
Supply chain shortages, bottle necks in shipping and transportation, and a tight labor pool have all contributed to rising food prices. Here are tips for eating healthy and saving money at the grocery store.
PLAN
Do you know how much you spend on food and how much you would like to spend on food? Planning a budget before you head to the store will help you get the food your family needs and keep costs in check.
Here are two websites that will help you with budgeting according to your family size.
Cost of Food at Home (website)
Grocery Budget Calculator (website)
Plan Weekly Meals
1. See what you have on hand that needs to be used up.
2. Check the store sales.
3. Plan your menu (if a week is too much, start with a few days)--Grocery Game Plan. (pdf)
4. Make a grocery list. (pdf)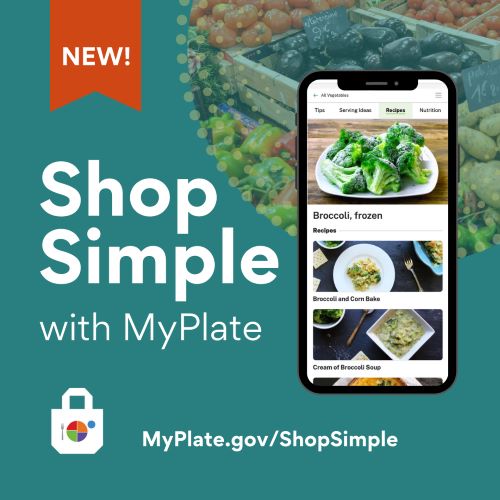 1. Rest before you go and have a snack to cut back on impulse buying.
2. Don't forget your grocery list.
3. Have paper and e-coupons ready for the foods you normally buy.
4. Buy shelf-stable foods first and frozen and refrigerated foods last for food safety.
5. Stick to your list and check out when you have everything.
6. Take groceries home, divide up foods for meals and recipes, and store appropriately.
FIX
1. Plan out your food prep starting with foods that take the longest.
2. Make sure you have all ingredients and equipment.
3. Thaw safely--in the refrigerater, under cold running water or in the microwave. (See our Food Safety webpage for food safety info.)
EAT
1. Enjoy your meal. Make Mealtime Familytime. (pdf)
2. Put leftovers away within two hours of preparing.
Need Some New Recipe Ideas?
EZ Does It!- videos (website with videos)
Healthy, Thrifty Holiday Menus (website)
MyPlate Kitchen (website)
Spend Smart Eat Smart (website)
Seasonal and Simple Webpage and App link